---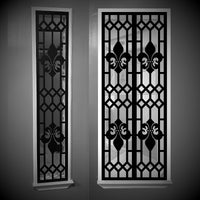 "FLEUR DE LIS" - CUSTOM SIZED SINGLE GRILLE:
22.5" X 58.0"
This indoor 1/4" thick HDPE (plastic) grille is designed to fit over (hiding/covering) the existing 3/4" window frame.
THESE ARE NOT MADE FROM REAL WROUGHT IRON - "FAUX" MEANS FAKE.
These, French influenced, faux wrought iron shutters will give your home a unique, elegant style that is sure to make your neighbors jealous – they'll wish they had discovered them first!

Our classic Fleur de lis design will transform your home's facade into an artistic focal point by adding a sophisticated elegance that will never go out of style.
This unique design is completely ours! We are a small, veteran owned, business and each piece is made by us in our workshop! We are 100% made in the USA.
Copyright © 2020 by Cinthia L. Williams
All rights reserved. No part of this design may be reproduced or used in any manner without written permission of the copyright owner.
PRODUCT DETAILS
NON-PAINTABLE HDPE (plastic):  We make them from 1/4" Marine Board (high density plastic), which makes them extremely durable and maintenance free! They hold up well in all climates. They are black and cannot be painted. 

PRE-DRILLED MOUNTING HOLES: All products will come with pre-drilled mounting holes unless specified otherwise. If you are mounting our product to brick, or vinyl siding - you should request NO holes! 
The designs may vary slightly from size to size.